The Largest Meat-Eating Dinosaur: 11 Facts About the Spinosaurus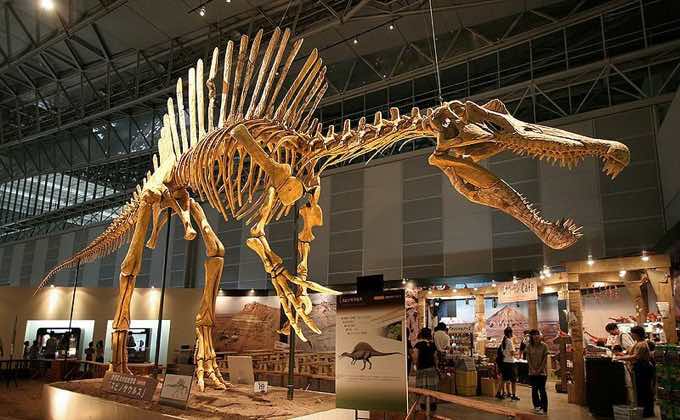 Dinosaurs are some of the most fascinating and astonishing creatures ever to walk the earth. Some of the most popular meat-eating dinosaurs are the Tyrannosaurus rex, velociraptor, and Spinosaurus.
While the Spinosaurus is popularly seen in many movies, video games, and cartoons, most people aren't too aware of details about it, aside from the fact that it's a carnivore. To learn more about this fantastic creature, here are some exciting facts and theories.
1. Spinosaurus Means' Spine Lizard'
The name Spinosaurus is fitting because it means 'spine lizard'. However, its scientific name is Spinosaurus aegyptiacus, which is a mouthful. It was the name given by Ernst Freiherr Stromer von Rechenbach all the way back in 1915. He was a German paleontologist, which means he studied fossils to classify organisms and learn more about how they lived with other creatures and their environment.
2. The First Remains Were Found In 1912
The first partial remains of this carnivorous semi-aquatic dinosaur were found in 1912 by Ernst Stromer. Unfortunately, complete remains haven't yet been discovered. But, here are what Strormer found:
Lower jaw bone
Other bones that belong to the jaw area
Twenty teeth
Two cervical vertebrae
Seven dorsal vertebrae
Three sacral vertebrae
One caudal vertebra
Four thoracic ribs
Gastralia
One exciting finding about the spine is that the longest one measured up to 5.4 feet or 1.65 meters. There were some drawings of the fossil remains, but the teeth, vertebrae, ribs, and gastralia were not illustrated.
3. The First Fossil Remains Were Destroyed In World War 2
Although the remains found survived through World War 1, they wouldn't make it past World War 2. They kept the bones in the Deutsches Museum in Munich. However, an Allied bombing raid in 1944 completely devastated the Spinosaurus remains. Since then, plaster casts were used as fossils of this specimen are rare.
4. The Spinosaurus Lived In The Cenomanian Period
After finding and examining these remains, Stromer believed that this particular Spinosaurus lived in the early Cenomanian period, about 97 million years ago. However, the species is believed to have existed somewhere between 112 to 97 million years ago.
5. They Lived In Northern Africa
When Ernst Stromer found the first Spinosaurus remains, he was in Egypt. Thus, 'aegyptiacus' was used. However, the species, including its other types, is believed to have lived all over Northern Africa, specifically Egypt, Algeria, and Morocco. It probably lived somewhere near the seashore as well.
6. They Might Have Been Swimmers
Based on where they lived and how they were built, experts believe that the Spinosaurus was semi-aquatic. This means that they could have been able to swim around and also live on land. For instance, their cylindrical and widely-spaced teeth in their long narrow jaws indicated that they could have had a fish diet. In addition, their skull was shaped a lot like a crocodile's
The nostrils were also different from other dinosaurs as the Spinosaurus' were nearer the eyes, on top of the nose. So, you could imagine how this made it easier for them to breathe while they waded and hunted for food in bodies of water. It's also notable that other species from the spinosaurid family were fish-eaters too.
7. They Might Have Had A Fin
Another thing that's unique about the Spinosaurus is that they might have had a large sail-like fin on their backs. Unfortunately, it's challenging to be sure of what they were for, but here are some theories:
Temperature control
Attracting mates
Swimming
But, did you know that scientists aren't exactly sure if the spine had a fin or a lump on the back? With only bones to help them out, there are limitations to what they could accurately propose a Spinosaurus looked like.
8. They Weren't Restricted To Eating Fish
It's believed that they mostly ate fish, but not tiny ones as it wouldn't have sufficed. They probably caught massive fish species that also existed in their era. But, they probably hunted other prey too. However, experts could only theorize what other creatures were hunted, depending on other species that lived in the ecosystem.
Here are some possible food sources for the Spinosaurus:
Lepidotes sp.
Onchopristis numidus
Spinosaurus aegyptiacus
Bawitius bartheli
Polycotylidae incertae sedis
Mawsonia libyca
Cretolamna appendiculata
Asteracanthus aegyptiacus
Neoceratodus africanus
Retodus tuberculatus
Apertotemporalis baharijensis
Paranogmius doederleini
Schizorhiza stromeri
Squalicorax baharijensis
9. They Probably Walked On Twos
The next fact about the Spinosaurus is that it was a theropod. This means that it walked on twos. The name 'theropod' was derived from Greek, which essentially translated to 'wild beast' and 'foot'.
On the other hand, the velociraptor is a different kind, belonging to dromaeosaurid theropods. Dromaeosaurid indicates that velociraptors were a kind of theropod that had feathers. The Spinosaurus didn't have feathers, but what sets theropods apart is that they had hollow bones and limbs characterized by their three toes. Other theropod groups include:
Herrerasauria
Coelophysoidea
Dilophosauridae
Ceratosauria
Tetanurae
However, the Spinosaurus' long front limbs indicated to experts that it might have been able to walk on fours too. If not, it's believed that it evolved from being quadrupeds to theropods.
10. They Might Have Been The Biggest Meat-Eating Dinosaur
While the Tyrannosaurus rex is the most popular meat-eating dinosaur, it's not the biggest. The ferocious Spinosaurus is believed to be the biggest carnivorous dinosaur, measuring an average of 50 feet long. It also weighed somewhere between 7-23 tons, so it was probably one of the most fearsome predators at that time.
11. There Could Have Been Two Kinds Of Spinosaurus
Although it's pretty challenging to find their remains, there were two types of Spinosaurus species that had been named. The first is the Spinosaurus aegyptiacus, which was what Ernst Stromer found in Egypt. Its name translates to 'Egyptian spine lizard'.
There's also the Spinosaurus maroccanus found in Morocco and was described by Dale Russel as an entirely different Spinosaurus species. He made this determination based on how long the neck vertebrae were.  However, experts debate the Spinosaurus Maroccanus' validity as an entirely different species because Spinosaurus aegyptiacus possibly had varying neck lengths.
Conclusion
Because dinosaurs are believed to have become extinct due to an asteroid, it isn't easy to be precise about specific details of dinosaurs, including the Spinosaurus. Thankfully, with discoveries and studies from experts like paleontologists, one could get an idea about how big they were, what they ate, and how they lived in their age. It also helps to imagine what they could have looked like, especially their color and how they moved.