Life lessons from Anita Moorjani's Near Death Experience [video]
_Featured_, Consciousness, Spirituality, Videos
Friday, August 24th, 2012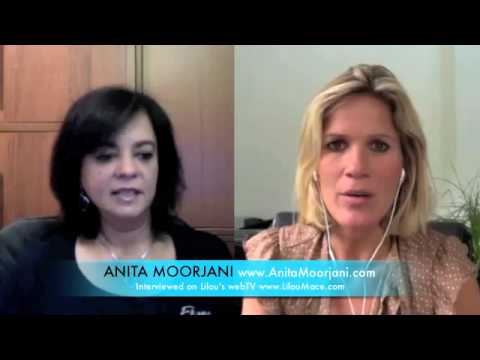 Anita Moorjani's fascinating and moving near-death experience in 2006 tremendously changed her perspective on life.  Her story is documented in her best-selling book titled, "Dying to be Me: My Journey from Cancer, to Near Death, to True Healing." Her work is now ingrained with the depths and insights she gained while in the other realm.  In this interview with Lilou Mace, Moorjani shares some of those insights.
Below are highlights from the interview:
Moorjani's near death experience (NDE) taught her how to live life to the fullest.
After she died and transitioned into the other realm, Moorjani was in a state of profound clarity. She learned what caused her cancer.  She was able to see her entire life – every thought she had, every action she took.  The total sum of everything she experienced caused her to get cancer and die.  She was able to see why she became ill.  To sum it up in one word: fear.
Moorjani feared everything – death, cancer, things that caused cancer, not pleasing people, etc.  When she was diagnosed with cancer, she was totally in fear.  Also, there was an overload of "cancer cure" information, which causes confusion, and more fear.
Moorjani also learned that it wasn't her time to die, and was given the choice to come back.
Moorjani 's advice:  First and foremost, do not treat your illness like a battle.  Don't fight it.  Work with it.   Embrace it. Love where you are now.  You can research it, but only from a point of love.  Only when you approach your health challenges from a point of love can you overcome the fear.
Also, follow your gut feeling when you get sick.  Stop with all of the research on the internet.  She had people tell her: you must research more… that information is power. But sometimes too much information causes confusion and more fear.
Fear feeds the cancer.
Understand that your body is giving you a message.  Even if you don't know what the message is, love yourself and work with the illness.  Choose to work on making yourself feel better.
Stop and embrace yourself wherever you are at.  There's nothing out there.  It's all within.  Then, find out what makes you feel good.  Ask yourself this question: what brings me joy?
Also, don't make your life about the illness.  Do not obsess over the illness.
Obsessing over anything is how we lose our place in the center of ourselves.  We get lost.   We lose ourselves when we spiral into fear.
Unconditionally love yourself.
Positive thinking can only help to a certain extent. It's more about being yourself and loving yourself – regardless of what you are going thru.
No matter where you are, the first thing to do is to learn to love yourself.  And, stop judging yourself.
Moorjani's NDE experience taught her that her illness was her own energy turned against herself – a reflection of her own beliefs about herself.
Ask yourself: "Am I allowing myself to express who I am?  Am I being this person because I want to be accepted, or because it is who I am?"
From the place of centeredness, miracles are possible.  It's about being, not doing.  When you are in the space of being, miracles are possible.
We are only limited by our beliefs.
The way to snap out of fear is to do something that brings you into a state of joy!  Find something that changes your state completely.  Whatever it is – music or art or going out in nature. Do something completely different. Or meditate.  If we can be still, we can go into a different reality.
Just get out of that state of fear that you are locked into and stay out of that.
Get into a defused state in which all of the possibilities lie before you and you haven't locked into any one.  Be open to whatever happens next.
When you are open and follow your bliss, that's when you'll find that the amazing possibilities start coming in.
We don't follow our joy enough and that's the biggest problem.  Instead, we do what we think we should do, rather than what our heart tells us to do.  We don't do what makes our heart sing.
It comes down to being centered.
You are your own guru.  The answers come from within.
Nobody is superior to you. We are all equal.
That whole idea is not being fearful and loving ourselves enough to know that we are own gurus.
Enjoy life and do what brings you joy.
Make your everyday choices based on what makes you FEEL good, rather than what you THINK you should do or what others think you should do.
Live your life out of passion and love, rather than out of a fear of failing and displeasing.
Realize your own MAGNIFICENCE!