Scott Moore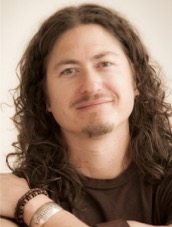 Scott Moore E-RYT 500
I love to share yoga with people because I love to see it enrich their lives. I enjoy infusing humor, storytelling, poetry, and music into my teaching because that is what inspires me. I endeavor to share the message of yoga through writing and teaching. My hope is to offer something from my heart to every one of my students or readers. I love to teach Vinyasa, Hatha, Power, Restore, Mindfulness, and Yoga Nidra.
When I discovered yoga, I was immediately attracted to its focus and energy, its grace and strength. For me, yoga has become a beautiful vehicle that directs me toward spirituality, mindfulness, and health. It shapes every aspect of my life and provides me a path of self-discovery, illuminating the beauty of my human experience. I have been privileged to study with several master teachers including Dr. Richard Miller, Rod Stryker, Judith Hanson Lasater, Dona Farhi, and others.
I've lived and taught in Brooklyn, New York and Salt Lake City, Utah. I also studied meditation and movement while teaching English in Korea. In 2004 I was hosted as the guest teachers at NAVA, Croatia's premier yoga studio. Besides teaching public classes, I was adjunct faculty teaching accredited yoga courses at Westminster College. For four years, I owned and taught at Prana Yoga Trolley Square and Prana Yoga Station Park. I also enjoy hosting several local and international yoga retreats to places like Hawaii, Tuscany, Greece, and Spain.
I've been featured as a teacher of guided meditation on the international meditation app Insight Timer as well as featured in and written for Mantra Magazine, Elephant Journal, Conscious Living News, and my own blog found at scottmooreyoga.com.
Click here for articles written by Scott