What Everyone MUST Do On Chemtrail Awareness Day, Jan 22
_Featured_, Chemtrails-Geoengineering, Uncategorized
Friday, January 21st, 2011
I have come up with a plan for Chemtrail Awareness Day that will bring massive awareness to the atmospheric atrocities that are being forced upon humanity, without our consent.  I am confident that this plan will work if there is a global show of solidarity by getting participation from everyone worldwide who is aware of chemtrails.  This is something that that can be done in a few minutes on your home computer or laptop, which can potentially lead to the stoppage of geoengineering and clean air for generations to come.
Before I lay out the plan, first let me present an attitudinal position that people of all nations should take.  That is, we are not cockroaches.  We don't deserve to be sprayed upon with toxic chemicals.  We are human beings and we are not going to take this air crap anymore.  Please watch the two minute video below to get yourself in the right frame of mind.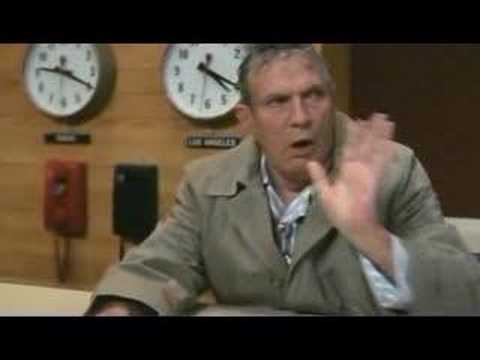 Say this out loud: "I am a human being.  My life has value. I am as mad as hell and I'm not going to take this air crap anymore."
Fortunately, with the internet, we have a much more effective way of expressing our frustrations than yelling out of a window.  Let's make use the internet to our advantage. It's as easy as 1-2-3:
Sign up for a Twitter Account
Contact Your Elected Officials
Let the world know who you contacted by sending a Tweet.  Also, every day you see air crap in the sky, tweet that too.
Repeat steps 2 and 3 until you no longer see air crap in the sky.
Step 1: Sign Up for a Twitter Account
If you already have a Twitter account, you can skip this step.  If you don't, it is an absolute must that you sign up for one.  It's incredibly easy and can be done in about three minutes.  All you have to do is the following:
Step 1a: Go to twitter.com and click on the "Sign up button in the upper right hand corner of the screen:
Step 1b. You will be taken to a screen like the one that appears below.  Enter your full name, a username, a password, and your email address.  Unless you want to receive a bunch of emails from Twitter, you should uncheck the box at the bottom "I want the inside scoop. Please email me updates." Then click the "Create my account" button.'
Step 1c. Enter the CAPTCHA text as indicated:
Step 1d. For interests, enter "aircrap" into the search box.  Click search. Then, click the "Follow" button.  This will allow you to receive chemtrail news updates from aircrap.org.  You can also enter "chemtrails" into the search box and follow those that interest you. Then click the "Next Step: Friends" button at the bottom.
Step 1e. Twitter can search for friends from your email address book if you want. If not, you can skip this step by clicking on the "Skip Import" button on the lower right (see below).
Step 1f. You're almost done.  Next you should receive an email message like this:
Login to your email that you specified in Step 1b.  You'll see an email from Twitter with the subject "Confirm Your Twitter Account."  Open that email and click on the confirmation link inside. After clicking on the link, you're Twitter account is setup is complete and you are taken inside your Twitter account.  It will look something like this:
Step 2. Contact Your Elected Officials
If you live in the United States, you can click here to contact your congressional representatives.  Alternatively, you can click here for "The Complete List of Email Addresses and Fax Numbers fo the U.S. Congress and Governors." With the second link, when you click on the name of your elected official, it should provide a means of sending them email.  Better would be a fax.  You can send a fax for free at faxzero.com.
The following is sample text for your fax or email.  Modify it to your satisfaction or create your own letter from scratch.
Senator Barbara Boxer,
I see ongoing persistent jet contrails, a.k.a. chemtrails, around Los Angeles on an ongoing basis.  These chemtrails are known to contain numerous toxic chemicals.  Award winning investigative reporter, Will Thomas, has reported findings of over 300 types of virally mutated fungi in the chemtrail fall out. The Idaho Observer has reported findings of 26 metals including barium, aluminum and uranium, a variety of infectious pathogens and chemicals and drugs including two sedatives in chemtrail fallout, six bacteria including anthrax, nine chemicals including acetylcholine chloride, 26 heavy metals including arsenic, gold, lead, mercury, silver, uranium and zinc, four molds and fungi, and seven viruses. Dr. R. Michael Castle reports the finding of cationic polymer fibers. Others have reported findings of tiny parasitic nematode eggs of some type encased in the fibers.
Researcher Clifford Carnicom has reported finding chemtrails fibers that are an exact match with the bizarre fibers found in those suffering from Morgellons Disease.
Our health is under attack as evidenced by the skyrocketing rates of chemtrail induced Alzheimer's disease,  lung cancer, asthma and pulmonary/respiratory problems as well as the emergence of a new plague, Morgellons Disease, an infection with a new and unknown pathogen that is seriously disabling and disfiguring. Over 12,000 families in the U.S. are now infected with Morgellons.
When the UN proposed a moratorium on geoengineering last October, the United States was one of the only nations that failed to sign on.  Instead, the US countered with a report titled "ENGINEERING THE CLIMATE: RESEARCH NEEDS AND STRATEGIES FOR INTERNATIONAL COORDINATION" by Chairman Bart Gordon, Committee on Science and Technology, U.S. House Of Representatives.  This report makes it clear that US has no intention of curtailing geoengineering.
My question to you, Ms. Boxer, is: what side are you on?  You are either for the illness, death, and destruction caused by chemtrails or you are for the welfare of humanity and our sacred planet.  Please go on the record with your position on the chemtrail issue, which G Edward Griffin has called the greatest crime against humanity in history.  Your silence will mean that you support the geoengineering program.
Step 3: Tweet every official that you contact;  tweet every day you see air crap in the sky.
Click on "Home", and then enter text similar to that shown below in the box under "What's happening?"  For example: "I told Senator Barbara Boxer of California that I am as mad as hell and I'm not going to take the air crap anymore."  Also, be sure to enter "#chemtrails" to the end of your tweet so that anyone interested in chemtrails will see your tweet.  Then, click the Tweet button.
Similarly, every day you see air crap in the sky, report that via Twitter:
Repeat Steps 2 and 3 until you no longer see air crap in the sky.
Let us all join forces and wake up the rest of the world to geoengineering and the crimes against humanity that are being committed.  Send a link to this post to all of your unaware friends.  Also, send a link to aircrap.org or any other site that you feel best describes what is happening  and the health impacts.  Suggest that they watch "What in the World Are They Spraying?"
In addition, let us put our elected officials on alert: We are human beings, not cockroaches.  Our lives and the lives of our friends and loved ones have value.  We are as mad as hell and we're not going to take it anymore.
May we all once again see a real blue sky.
Greg Scott, ConsciousLifeNews.com