UFO Reported Over San Francisco & Brooklyn
_Featured_, UFO
Sunday, December 23rd, 2012
Editors Note: This article gives no factual evidence that Chinese lanterns were what witnesses actually saw.
(LiveScience) The Mayan apocalypse believed by some to be taking place on Dec. 21, 2012, has apparently been preceded by multiple sightings of alleged UFOs hovering over major U.S. cities. In the past week, San Francisco and Brooklyn were both treated to the sight of mysterious illuminated objects floating in the sky.
And, of course, rather than of alien origin, the lights seem to have come from something commonly mistaken for UFOs: Chinese lanterns.
On Dec. 3, in the Prospect Heights neighborhood of Brooklyn, an amateur video captured a slow-moving parade of lights overhead. The trio of lights appeared to move in a coordinated fashion, slowing down and then moving again in roughly the same direction and at the same speed.
A similarly choreographed ballet of lights, reported by some as a UFO sighting, danced over the Mission district of San Francisco in the wee hours of Dec. 9. As in the Brooklyn sighting, the lights seemed to hover calmly above the city, then slowly drift away in unison, as seen in this amateur video.
At least one astronomer was stumped by the San Francisco sighting. "It's not a planet, it's not a constellation, it's not meteors, it's not the moon," Bing Quock, assistant director of the Morrison Planetarium at the California Academy of Sciences, told CBS San Francisco. "It looks to me like it could have been balloons, carrying lights."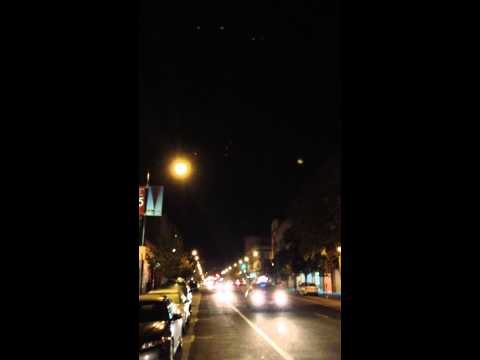 _______________________________
DISCLAIMER:
The videos above are presented only for your consideration. While we find the footage compelling and believe it is worth sharing with our readers, we make no claims either implied or expressed as to its authenticity.
In the age of computer generated imagery (CGI), it is difficult if not impossible to verify the authenticity of footage even under the most advanced expert scrutiny and analysis. The truth of the matter is that until a sighting is witnessed by hundreds and captured on video from multiple sources and perspectives, UFO footage will probably never be considered as "proof" of anything. The thousands of UFO videos littering YouTube, many of them fake, are a testament to this.
That being said, we will make every effort to look for red flags and weed out obvious hoaxes and fakes, but nevertheless, some will undoubtedly slip through the cracks. We encourage readers not to automatically accept any UFO footage they see at face value, and to always apply discernment and a healthy degree of skepticism.