What Do You Do On National Squirrel Appreciation Day?
_Featured_, Environment
Friday, January 20th, 2012
Tomorrow is National Squirrel Appreciation Day though not a well-known celebration it can be celebrated in many ways, so hold on to your nuts and shake your tail as we describe them to you.
Squirrels are seen all over the US in parks, cities, suburbs, and the wilderness fluffing and shaking their tails, making chirping noises, climbing, and digging around to bury or retrieve their treasured food items. wearing protective clothing
The National Wildlife Federation has outlined a spectrum of ways to start a squirrel celebration:
Change your attitude – though they might be a pest to you they have many benefits such as planting and digging up seeds and nuts which aerate your yard, lawn or garden.  Their playful nature of jumping in the treetops, fluffing their tails will entertain your entire family.  Squirrels are much smarter than you think.
Give them food – sometimes their food can run low put some peanut butter on a pinecone, put some bread out, or corn on the cob suspended from a string.
Challenge them - If the squirrels are going to steal food from your bird feeder or garden anyway why not give them a challenge: an obstacle course!  (see video)
Supermodels – get your camera out and start taking photos.  They are bound to do something uber cute or ultra kawaii and you can capture the moment.  They can be caught on camera nuzzling their cheeks to greet each other, "nom nom" on an orange or tomato, or come to your front door.
Be thankful – American squirrels are small mammals but the ratufa of India is called the giant squirrel and grows up to 3 feet long!
Research – there are books about squirrels such as Squirrels at my Window by Grace Spruch, or Those Darn Squirrels by Adam Rubin for example.
Keep your distance – squirrels will get friendlier and friendlier when they quickly learn where the bread comes from but they should be loved and respected from a distance so don't try to pet them or pick them up.
Squirrel Obstacle Course:

And here are our favorite celebrity squirrels including Walter from the series "Ultra Fur" on Ultra Kawaii: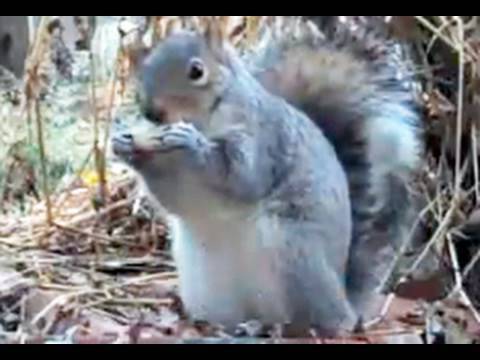 Up: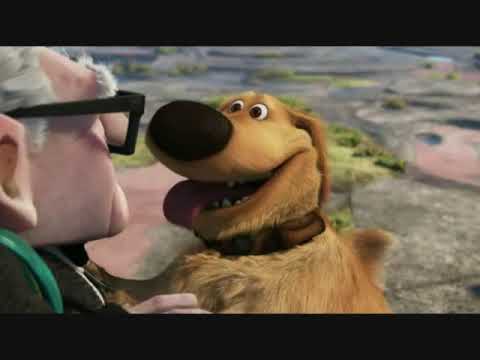 Rocky and Bullwinkle:
Screwball Squirrel:
Albino?
Baby Squirrel with Foster Mom: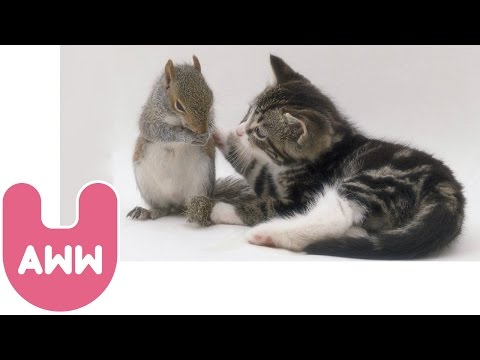 Source:  nwf.org