This article is adapted from a social media post that I made yesterday in the immediate aftermath of Morsi's speech. You see, having lost all respect for the Morsi government, the Egyptian people have developed quite the sense of humour about the situation, and during yesterday's speech took to social media in droves to satire and lampoon Morsi in real-time — a modern take on a tried and true method of deflating the ramblings of a tyrant. I took a more serious approach though, and was among the first to publish a serious analysis of Morsi's speech. To my pleasant surprise, the post went viral, and is now presented here in expanded form for your consideration.
Are These Morsi's Final Days?
By Omar Cherif
The Muslim Brotherhood's president in Egypt, Mohamed Morsi, gave a two-and-a-half hour speech yesterday. This event was deliberately scheduled a few days before June 30th, which is when millions of Egyptians will take to the streets to demonstrate against him. The 'Tamarod', or 'Rebel', campaign has managed to gather more than 22 million signatures this past month asking for early elections and the impeachment of Morsi.
His words appeared empty and too casual, his figures made up, his ideas shallow, and the only thing we could understand from him is that he is not going anywhere as some were anticipating. The speech was aired live in Tahrir Square where demonstrators were already present. And as you can see in the featured photo, this was the reaction of the women there. In the Arab world, lifting the shoe is a sign of refusal and disrespect. We've seen it happen with Mubarak and we're seeing it again these days, as I'm sure we all remember that famous George Bush shoe attack.
But the people have really had enough. During this last year and especially those last few months, there has been no electricity, no gas (fuel), not enough food or drinking water, high prices, no jobs, and no tourism. In a nutshell, Morsi and the Brotherhood gang are well on their way to destroying post-revolution Egypt. Luckily, millions of united people won't let him.

Here are a few points worth noting about Morsi's dull and ineloquent speech…

1- The number of times he mentioned the old (Mubarak) regime, including some specific names of judges and businessmen, illustrating that Morsi is now squarely on the defensive and wants to blame the previous regime for everything he has failed at. But beyond the political cowardice of deflecting blame onto his predecessors, no president should utter such claims, true or not, without proof. I find it quite absurd that after appearing in multiple interviews on the television networks CBC and Dream, Morsi's narrative has now shifted to cast them as the villains in all of this, accused of spreading false information, inciting hatred, and evading their taxes.

2- All this sweet talk to the Army shows how scared Morsi and the Muslim Brotherhood are of a possible coup d'état. Note that Army forces have already been deployed to secure the Media City and other important buildings throughout the country.
3- Mentioning three times that he is the leader of the Armed Forces is probably a not-so-subtle message to Al-Sissi, the Commander-In-Chief of the Egyptian Armed Forces, who, unlike the Prime Minister, didn't look too satisfied. Rumours about a coup in the making have been all over the media outlets for the last couple of days, competing with patently false rumours of Morsi firing Al-Sisi and the head of the Intelligence Agency.
4- Bringing in paid pro-Morsi supporters who were mindlessly cheering for everything he was saying highlights his frantic desperation to maintain the appearance of popular support, when the reality needed to appear popular, a la Kim Jong Il. Note that when Morsi was addressing the Army they started chanting "the army and the people are one hand," which played as totally orchestrated and inauthentic to me.
5- Ending that long, empty speech with a specific Qur'an verse ("Onsorna 3ala al kawm alkafereen" or let us win over the non-believers) means that he is ready to fight and is not planning to leave. 

Now, let us agree that the Muslim Brothers will not go away easily, and it would be unwise to think otherwise. In fact, I know from an insider source that they already have plans to fight back. However, let's remember that they are a minority now and they are afraid, very afraid. Do you realize how many Egyptians from all walks of life are united this time and ready for rebellion on June 30th? Can you imagine how the 'Tamarod' campaign has already gathered 22 MILLION signatures to vote for early presidential elections? That is scary to anyone. I do believe that nothing can stand against the will of the people, especially now that they have learned a few vital lessons – the hard way. 22 million gathered for one single cause is too much energy for any human being or any illegitimate gang to bear. This is a latest Article for those who want to know what's been happening in Egypt under the rule of the Muslim Brotherhood and their so-called president, Morsi. 
Equally important, let us also remember a crucial factor in the whole equation…Uncle Sam. I'm sure many of you are well aware of how things really are. Sadly and to be honest, it's never really the presidency's decision nor is it the Army's. I remember a specific photograph I shared with my friends last March of John Kerry sitting with Morsi and lifting his finger looking like he's bossing him around, while poor Morsi had both hands on his knees like a schoolboy being lectured by a teacher. I believe I called it 'a picture worth $1.2 billion' — the amount of US foreign aid to the Morsi government that was at stake. It really spoke volumes.
So that's why demonstrations around the world in front of embassies and in parks and squares play a big role in the whole thing, just like it did during the 18 days of Jan 25th. I encourage all Egyptians wherever you are to demonstrate and make yourselves heard, because you do get heard. Also because if it's not you, then who?
Once the public opinion is stirred, the media starts to be flooded with photos, videos and articles, and there is an overall global awareness of the situation, it should end in our favour – the people's favour. Egypt is seen as the 'jewel' of the region and its fate is important to lots of very different people. So keep the faith, folks. Let's hope for the best, expect some struggle but stay driven and focused and we'll get there.
Tyrants never willingly surrender power of their own accord. They have to be toppled, jailed, or expelled, or otherwise disposed of by force. I believe that Morsi is no exception. The way to force him out is by occupying all possible streets and squares throughout the country by the 30th of June, or even before it. Perhaps to be followed by a civil disobedience if needed. Remember, Mubarak with all his power and might was toppled in 18 days after 30 long years of military reign and a police state, so understandably, the removal of this unwitting character will go easier and faster. We have done this before and we can do it again. Power to the people, always.
"Disobedience, in the eyes of anyone who has read history, is man's original virtue. It is through disobedience that progress has been made, through disobedience and through rebellion."
– Oscar Wilde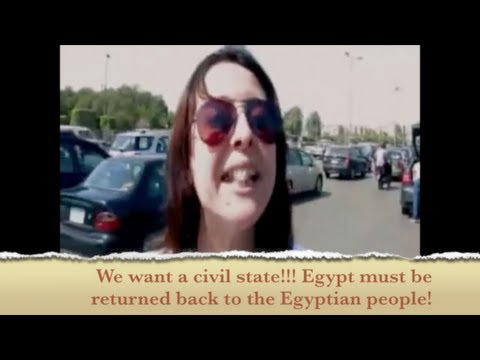 About the Author:
Omar Cherif is a trilingual writer and researcher, photographer and blogger with degrees in journalism, psychology, and philosophy. After working in the corporate world for ten years, he took writing as a vocation and is currently finalizing his first book about dreams, the subconscious mind and spirituality among other topics.
You can follow Omar on here:
Facebook
One Lucky Soul
And you can find more of his work on his blog and on Flickr:
One Lucky Soul
Photography