6/9/12 Crop Circle at Woodborough Hill, Wilshire, UK – Does it Signify the 3rd Stage of Creation?
_Featured_, Crop Circles, Videos
Tuesday, June 12th, 2012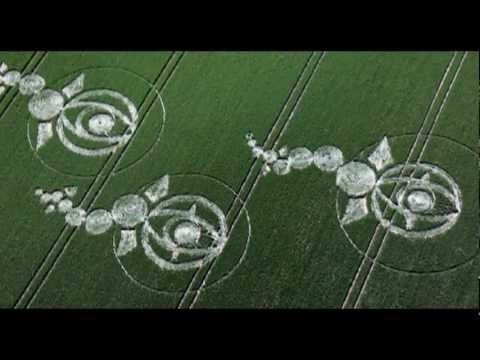 Video and article regarding the latest crop circles found at Woodborough Hill near Alton Barnes in Wiltshire on Saturday, 9th June 2012.
(Source: CropCircleConnector.com)
Often the crop circles formed in Britain carry the stamp of symbols used throughout history on Earth.  The formation at Woodborough Hill, on June 9th is not an exception to this habit of the circle makers… Perhaps these beautiful works in the fields are meant to bring together as many of us as will pay heed, into ONE understanding that includes ALL understandings.
This is what moved me when I observed the three swimming images on the field of green. Each figure does resemble some kind of swimming entity (be it fish, sperm, tadpole, pollen) and the 'tail' of each one does seem to suggest movement. The Vesica Pisces shape within the large circle could be considered the 'head' of the tail'.
In that light, each individual 'fish' could be seen as an image of the action of fertilization, the action of Creation and pro-creation where Divine energy (vesica pisces with bubbly tail) infuses the fertile Void (the circle surrounding the vesica) and begins a new life within the mandorla (vesica with sun and crescent symbol). The wings attached to the tails in two locations and then to only two vesica shapes, give a sense of the spiritual quality of this imagery as well…
Are we entering the 3rd stage of Creation as it is laid out for us on Woodborough Hill? Does it seem plausible that ancient symbol users, timekeepers and sky watchers were acting in preparation for our next leap in evolution? Is the movement of the stars actually connected to the evolution and development of our consciousness? And is this huge procession of evolution, history and human endeavor actually all part of one Grand Work in which humanity plays a crucial leading part?  Is that why we are being treated with the beautiful works in the fields? And are we willing to accept the gifts and messages?
It only takes attention and openness to possibilities to benefit from these formations and the messages they bring to Earth consciousness.
Read the full article (as well as others) here…
Aerial shots showing all three circles:
http://www.cropcircleconnector.com/2012/WoodboroughHill/WoodboroughHill2012a.html
Ground  shots:
http://www.cropcircleconnector.com/2012/WoodboroughHill/groundshots.html
Diagrams:
http://www.cropcircleconnector.com/2012/WoodboroughHill/diagrams.html
Field reports:
http://www.cropcircleconnector.com/2012/WoodboroughHill/fieldreports.html