Laarkmaa – How To Communicate With The Spiritual Realm
_Featured_, Channeling
Thursday, October 13th, 2011
Rebecca Smith Orleane, PhD and Cullen Baird Smith bring forth a message from Laarkmaa of the Pleiades in response to the question:
"How can I communicate with the spiritual realm?"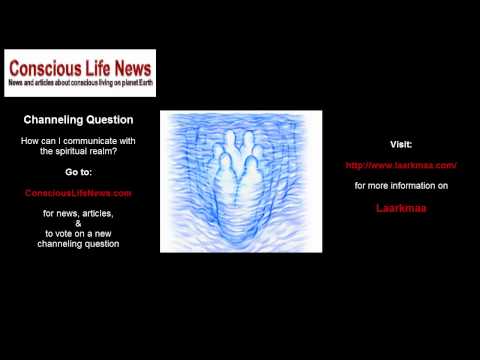 This is Laarkmaa contributing our answer to your question, "How do I communicate with spiritual realms and with my guides". This is our perceptions which we offer for you to incorporate in your own human understanding.
To communicate with any other being, whether it be human, or spirit guides, or interstellar beings such as us, you must first develop your capacity to listen. You must listen deeply to your own heart, for your heart will tell you whether what you are hearing is true or untrue. We never encourage humans to believe what Laarkmaa says. Instead we encourage humans to practice and learn how to listen to the wisdom of your own heart. That way when Laarkmaa or other spiritual beings give you information, you may learn to resonate with truth through your own heart's capacity.
In order to communicate better with your guides, and with the spiritual realm, and interstellar beings, such as Pleiadians, Arcturians, or other beings of the star system, you must turn off your belief systems and remove yourself from the chatter that your mind gives you of patterned response in your thinking. In other words, what we have already said: you must learn to listen. You communicate best by listening first. You cannot have a two-way conversation if you don't have adequate listening skills.
Most humans from our perception, tend to ask questions of their spirit guides or interstellar realms asking for help or asking for insight, but when the questions are answered and responses are given, humans do not know how to receive them. They expect answers to be given in a form they are accustomed to as if one human was speaking to another, but all of our answers do not come through language. Language is a human construct. We, the Pleiadians, speak in heart-tongues of love and beautiful, beautiful music and harmonic qualities. Humans communicate in many fashions, but most primarily they rely on words. So when you ask your high-self, angel, or an interstellar being to give you information, you have a simultaneous expectation that you will be able to receive the information in the same format that you have given it. It is not always the case. Many of your answers come in intuitive whisperings which you cannot receive if you do not know how to listen to your own heart. Many answers also come through symbols and through sound. You may learn to see symbols, looking more deeply for meaning, and you may learn to listen to sounds to feel the resonant frequencies as guidelines to approaching answers that you are trying to integrate in your understanding.
It is wonderful that you in your path towards development and raising your consciousness are seeking our help and that of others in asking "how may I listen best and receive answers, or talk to and communicate with my spirit guides or other beings from love and light." We wish you great success in your listening skills. As a practical approach, we would suggest that those who are endeavoring to communicate with other realms sincerely, that you go out into the quiet of nature and learn to listen to the movement of water, to the wind in the trees, to the trees themselves as they speak to you, to the devas of the plant kingdom, communicate with animals by watching and listening to their responses – all wild animals and birds – and learn to communicate with rocks – rocks have great wisdom.
If you practice your listening skills and your communication skills with these living beings of nature on your own planet, you will enhance your native abilities to communicate with interstellar beings such as us, and with your own spirit guides. This is our suggestion and our perception on your question. We happily offer this to your for your own evolution and we ask you, if you wish to practice this, make continual choices not to be attached to outcome, but be grateful and practice gratitude for every intuition and every nudge that you give, for you are being given many answers when you ask. You just need to learn how to do deeper listening to receive them.
We love you. We look forward to answering your next question. This is Laarkmaa speaking to all humanity. Good always.

For more information on Laarkmaa:
http://www.laarkmaa.com/