Art for Social Evolution
_Featured_, Spiritual Art
Wednesday, May 9th, 2012
By Piercarla Garusi.
We live at a crucial time in history and I believe the world needs Art more than ever. Not only to soothe it or to support it, but to co-create its evolution.
What if it was possible to help the world shift to a more positive reality, with the help of Art?
I think Art can help to bring about a positive change in many ways, for example denouncing what does not work or helping healing the suffering or pain, but the change I am talking about is at the level of the subtle energies. Here is my current understanding.
There is a lot of talking about Oneness and Consciousness. We are all connected, Oneness has always been happening. Consciousness is who we are, our true identity. Our reality is created by our consciousness. Our natural state would be a state of wellbeing, of abundance, of joy. The problem is that we hold, mainly in our subconscious, a lot of stuff that is negative and that is not who we are – beliefs, emotions, feelings, points of view, judgments, conclusions. We need to let that go to reconnect with our true nature. When we heal ourselves, when we let go of all we are not, everything flows, in peace and harmony. And when we raise our vibrations enough, we also impact reality around us, even if they are not aware of it.
So, the question is, can Art help people let go of the negativity they hold in their subconscious, so that they can reconnect with their magnificence? I believe so. I think what holds that in place is resistance, which has been created maybe by beliefs we have bought from others that cause us to feel powerless. If Art can help people relax and release the resistance, healing can begin to take place. I think there is also another way in which healing can take place and that can help raise the vibrations, and that is Energy Transmission from Higher Levels. My paintings are spiritual and I am just a tool to allow whatever needs to emerge, to become. Art can also help people think differently, help them shift their consciousness to a more empowered state, the state of who they truly are and maybe nobody told them. What if you could begin creating today the world you would like to live in?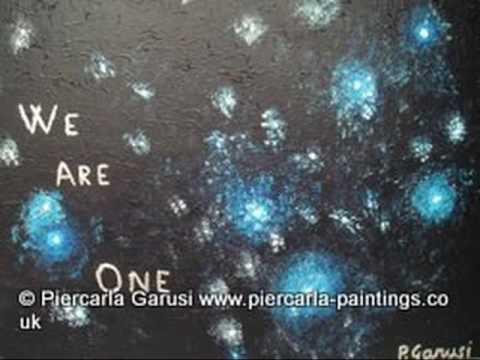 Copyright 2012 Piercarla Garusi
Piercarla Garusi is a spiritual coach and painter. Much of her coaching work is currently focused on improving the way we treat one another, and this from the point of view of the Infinite Being we each are. More information can be found at www.pgcoaching.co.uk. Her spiritual paintings 'Art from the Soul' are for healing and a shift in consciousness. You can find more explanation, view them, find information on exhibitions and healing projects at: