"What If America" – A Wake Up Call [video]
_Featured_, Big Government, Conspiracies, New World Order, Videos
Thursday, October 25th, 2012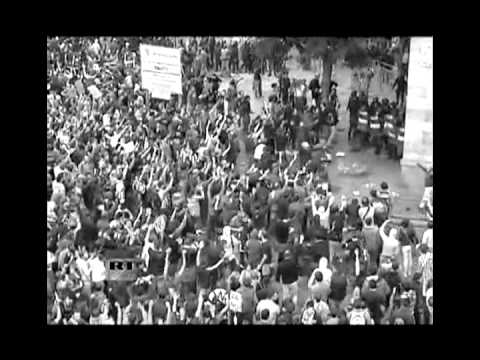 A stirring, 15-minute wake up call for Americans that asks several dozen "What if" questions, many of which have shockingly already become a reality (use your own discernment). The video concludes with a portion of Charlie Chaplin's speech in "The Great Dictator," followed by the final speech given by Martin Luther King, Jr. – known as the  "I've Been to the Mountaintop" speech (transcript below). MLK's prophetic and inspirational speech, which was delivered only one day before he was assassinated, is considered to be one of the greatest American speeches ever.
The following are some of the "What if" questions from the video, most of which first appeared in an article written by Judge Andrew P. Napolitano titled "What if the Constitution No Longer Applied?" (See the note below marking the beginning of the "What  If's" from Judge Napolitano's article.)
What if elections don't matter?
What if elections were actually useful tools for social control?
What if they just provided the populace with meaningless participation in a process that validates an establishment that never meaningfully changes?
What if the two-party system was actually a mechanism used to limit so-called public opinion?
What if the widely perceived differences between the two parties was just an illusion?
What if heart of the government policy remains the same no matter who is in the White House?
What if both parties just want power and are willing to have young people fight meaningless wars in order to enhance that power?
What if the government that manipulated us could be fired?
What If We All Woke Up and Stood Together?
NOTE: Judge Andrew P. Napolitano's What If's begins here
What if the whole purpose of the Constitution was to limit the government?
What if Congress' enumerated powers in the Constitution no longer limited Congress, but were actually used as justification to extend Congress' authority over every realm of human life?
What if the president, meant to be an equal to Congress, has become a democratically elected, term-limited monarch?
What if the president assumed everything he did was legal, just because he's the president?
What if he could interrupt your regularly scheduled radio and TV programming for a special message from him?
What if he could declare war on his own?
What if he could read your emails and texts without a search warrant?
What if he could kill you without warning?
What if the rights and principles guaranteed in the Constitution have been so distorted in the past 200 years as to be unrecognizable by the Founders?
What if the states were mere provinces of a totally nationalized and fully centralized government?
What if the Constitution was amended stealthily, not by constitutional amendments duly passed by the states, but by the constant and persistent expansion of the federal government's role in our lives?
What if the federal government decided whether its own powers were proper and constitutional?
What if you needed a license from the government to speak, to assemble or to protest the government?
What if the right to keep and bear arms only applied to the government?
What if posse comitatus — the law that prohibits our military from our streets — were no longer in effect?
What if the government considered the military an adequate dispenser of domestic law enforcement?
What if cops looked and acted like troops and you couldn't distinguish the military from the police?
What if federal agents could write their own search warrants in defiance of the Constitution?
What if the government could decide when you weren't entitled to a jury trial?
What if the government could take your property whenever it wanted it?
What if the government could continue prosecuting you until it got the verdict it wanted?
Read man of the rest of Judge Napolitano's "What if's) here: "What if the Constitution No Longer Applied?
Martin Luther King: "I've Been to the Mountaintop" speech – delivered April 3, 1968 (one day before his death) in Memphis, Tennessee.
Here's the text of the portion of MLK's speech that appears in the video:
All we say to America is, "Be true to what you said on paper." If I lived in China or even Russia, or any totalitarian country, maybe I could understand some of these illegal injunctions. Maybe I could understand the denial of certain basic First Amendment privileges, because they hadn't committed themselves to that over there. But somewhere I read of the freedom of assembly. Somewhere I read of the freedom of speech. Somewhere I read of the freedom of press. Somewhere I read that the greatness of America is the right to protest for right. And so just as I say, we aren't going to let dogs or water hoses turn us around, we aren't going to let any injunction turn us around. We are going on…
Well, I don't know what will happen now. We've got some difficult days ahead. But it really doesn't matter with me now, because I've been to the mountaintop.
And I don't mind. Like anybody, I would like to live a long life. Longevity has its place. But I'm not concerned about that now. I just want to do God's will. And He's allowed me to go up to the mountain. And I've looked over. And I've seen the Promised Land. I may not get there with you. But I want you to know tonight, that we, as a people, will get to the promised land!