The 9/11 "Watershed Event": Towering Infernos, False Flags and the "Global War on Terrorism"
_Featured_, 9/11
Sunday, July 15th, 2012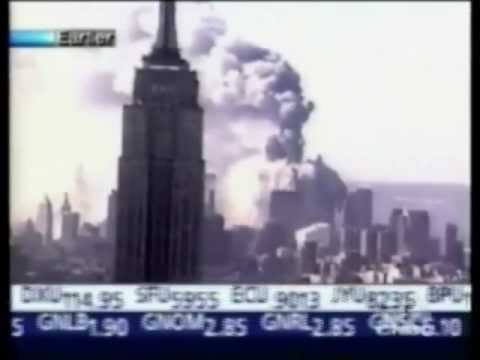 (By Adrian Salbuchi | globalresearch.ca)
When Moscow's Federation Tower skyscraper caught fire last April, images of the blazing inferno on its upper floors were grim reminders of the September 11, 2001 terror attacks on the Twin Towers of New York City's World Trade Center. However, had the "9/11 laws of physics" prevailed, Federation Tower would have collapsed into its footprint at free-fall speed and turned into an inches-deep dust carpet covering central Moscow. Clearly, that is not what happened…
What did happen was that twenty Moscow fire brigades and helicopters fought the blaze throughout the night, bringing it under control and finally extinguishing it.
Birth of the "Global War on Terror"
Indeed, strange events surround the 9/11 terror attack, which has become the watershed event of our modern times. For it marks the beginning of Imperial Overdrive on the part of the United States, Britain and key allies in Europe and the Middle East, all masqueraded as the "Global War on Terror." In just over a decade, this war has cost untold suffering, death and injury to millions of people and widespread violence in many countries, some of which have since been invaded and destroyed.
Closer to home, 9/11 has served to "justify" today's Gestapo-like 24/7 total surveillance police-state spying on the domestic populations of the US, UK, Europe, Australia, New Zealand and – even if to a lesser degree – in most other countries too.
These are just two of the many significant reasons why the 9/11 Event needs to be revisited and reassessed until the full truth finally comes out: who really did it, why did they do it, how did they manage to pull it off, and who have been hiding or at least diverting the awful truth about it and why?
We need not delve here on all the flagrant contradictions and damned lies propagated by US authorities and the mainstream media to this very day. In this respect, readers are recommended to visit the many excellent and well-researched and documented sites on the Internet, including Scholarsfor911Truth.com, 911Truth.org, wtc7.net, 911research.com, and wtc7.net, amongst others.
Rather, it's the dramatic geopolitical consequences of the flagrant 9/11 lies that need to be increasingly stressed. By now, all independent thinking people know that the World Trade Centre was not brought down by 19 suicidal fanatics led by some nut hiding inside a deep cave in Afghanistan.
Funnily, this is the most grotesque and idiotic conspiracy theory ever told and yet… that is exactly what US, UK and European authorities expect the world to believe occurred. People everywhere, however, are increasingly waking up to the obvious fact that steel-framed buildings don't just collapse the way the World Trade Center did.
Steel and Concrete Skyscrapers Do Not Crumble to Dust…
Moscow's Federation Tower is just one of many examples of high-rise steel buildings suffering catastrophic fires and yet remaining intact. Let's take a quick look at other eloquent examples, some dating back many decades:
On 17 October 2004, a fire broke out in Caracas, Venezuela's tallest skyscraper housing the Ministry of Infrastructure. The upper 20 of its 50 floors were destroyed and yet… it did not collapse.
On 12 February 2005, Madrid's 33 storey Winsor Tower suffered a huge fire causing the outer parts of its 30 upper floors to partially collapse. It took fire fighters a full day to extinguish the blaze and yet the building… did not collapse.
On 23 February 1991, a major fire at One Meridian Plaza, a 38 storey skyscraper in Philadelphia, gutted 8 floors, killed 3 fire fighters and causing US$100 million in direct fire losses. The fire burned for over 19 hours, broke most windows on the fire floors; vertical columns were not damaged but horizontal beams sagged as much as 3 feet. The building did not collapse and was finally demolished eight years later.
28 July 1945: lost in heavy fog, a World War II twin-engine B-25 bomber rammed straight into New York City's emblematic Empire State Building at the 78th, 79th and 80th floor levels igniting major fires and yet… the building did not collapse.
On 15 November 2010 a 28-story high-rise apartment building in Shanghai, China was completely destroyed by fire killing dozens, but the building did not collapse.
On 26 February 1993 – World Trade Centre's North Tower suffered the detonation of a massive 600 kilogram Urea-Nitrate-Hydrogen gas-enhanced truck bomb deep under its basement level which was intended to topple the building, and yet… it did not budge an inch…
Ground Zero: Criminal Destruction of a Major Crime Scene
These and many other similar examples of catastrophic fires on high-rise buildings beg the question: what really happened on 9/11? Why did the two towers collapse at free-fall speed? Why did they turn into dust? Why was all the evidence immediately removed, whisked away and destroyed by US authorities?
What happened to those massive foundation beams cut at exactly 45° – tell-tale signs of controlled demolitions – that quickly disappeared? Think about it: the world's deadliest and most famous crime scene where over 3,000 people were murdered was quickly gutted by the FBI, FEMA, police and military authorities; all the evidence removed and destroyed so that no forensic analyses could be done. Whatever steel beams and trusses survived were quickly sold as scrap metal to steel mills in South Korea, Taiwan and other countries for immediate melting and re-forging.
One would have at least expected US authorities to be curious to find out why two 110 storey towers lying next to each other collapsed so suddenly and catastrophically, if only to learn how to build stronger buildings in the future that won't come down so very easily.
Everyone knows that whenever a major airliner disaster occurs, civil aviation authorities carefully pick up all the pieces, trying to put the unlucky airliner back together in some far-off hangar so they can investigate and maybe discover what went wrong. The cause of the accident – a faulty rudder, fuel tank, wing strut, avionics, hydraulic system, or whatever – can be re-designed so that airplane type and model is made safer.
Not on Ground Zero. US authorities cleared the area of all beams, trusses, bolts, burying whatever body parts turned up in the rubble, very fast. They only seemed concerned in ensuring Ground Zero quickly became "hallowed ground": a mystical symbol inspiring the new-born Global War on Terror.
Physicists, engineers and the WTC's own architects and builders state that the Twin Towers were built to resist direct hits from the largest jetliner of the late 60's – the Boeing 707 – which is about as big and carries about as much fuel as the more modern Boeing 767's that rammed into both Towers on 9/11.
What brought the towers down was the jets' fuel, say government experts. And yet both fires inside the upper floors of the Twin Towers were not hot – certainly not hot enough to melt steel beams – hence their orange colour and thick black smoke, both evidence of bad or "cold" combustion. Why, even the blue flame coming out of your kitchen stove is much hotter than that, and yet your steel pots and pans do not melt every time you cook your food, right?
Worse still: video images of both jet impacts were very dramatic, particularly the ones of the South Tower that showed a massive, huge fireball exploding… outside the building!! Yes, indeed: a large part – perhaps most – of the fuel exploded outside and away from the tower. And yet… the South Tower collapsed first whilst videos show signs of molten steel pouring down from a spot around the 80th floor, something that was clearly not caused by jet fuel, which is basically refined kerosene. Tell-tale signs perhaps of Thermite and Nano-thermite, both of which are high-power military explosives?
That is what a report published in the April 2009 edition of The Open Chemical Physics Journal concludes. Led by University of Copenhagen chemistry professor Niels H. Harrit, a research team of nine chemists concludes they "…discovered distinctive red/gray chips in all the samples we have studied of the dust produced by the destruction of the World Trade Centre. Examination of four of these samples, collected from separate sites of… these red/gray chips show marked similarities in all four samples. …The red portion of these chips is found to be an unreacted thermitic material and highly energetic."1
Clearly a "smoking gun," although not exactly the one George W. Bush, Dick Cheney, Donald Rumsfeld and Condoleezza Rice were looking for!
WTC7 – The Solomon Building
Then we have that 64 million dollar question that no one can answer: why did 47-storey World Trade Centre Tower No. 7 – that was not hit by any airplane and only suffered moderate fires on its 6th and 12th floors that were being extinguished at the time – suddenly collapse into its own footprint also at free-fall speed at 5:30pm on that fateful day?
This nice and tidy controlled demolition even allowed for the authorities to evacuate the building so nobody got hurt. WTC7 was home to SEC (Securities & Exchange Commission) offices investigating Enron, WorldCom and high-tech stock market bubble scandals, as well as the Secret Service's largest field office. Alas! All the evidence they had put together came down with the building…
Further, was WTC7 also home to a secret ultra hi-tech Command Post housing all the hardware and electronics necessary to sequentially (and probably wirelessly) detonate bombs placed inside the Twin Towers to bring them down? Once that operation was achieved, how perfect to destroy all the evidence under thousands of tons of rubble from the collapsed building? It's just too good (or bad!) to be true!