4-Minute Earth and Space Weather News January 8, 2013
_Featured_, Earth, Space, Videos, Weather
Tuesday, January 8th, 2013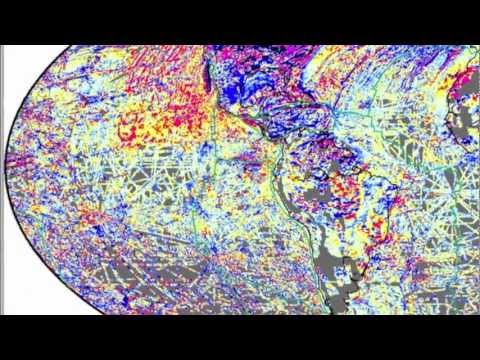 4-minute Earth and space weather news for January 8, 2013:
Could static electricity hold the key to predicting earthquakes?  Scientists believe that static electricity below the ground could be a reliable indicator that an earthquake is imminent.
The east coast of U.S. faces faster sea level rise than the rest of the world.
While glaciers are thinning over most of the world, Europe is getting more ice.
The Tolbachnik volcano in Russia erupted
Extreme weather (rain, high winds, and flooding) in Israel and Lebanon.
Cosmic ray density is still falling.
Sunspot number is 196, the highest of this cycle.  But, we still don't have any large flares.
CME impact and coronal hole stream is set to hit today.  There is an aurora watch at high latitudes.
TODAY'S LINKS:
Arctic: http://earthobservatory.nasa.gov/IOTD/view.php?id=80102
Glaciers: http://www.global-greenhouse-warming.com/glacial-retreat.html
Neutron Star: http://www.universetoday.com/99319/new-movie-of-a-neutron-star-looks-eerily-l…
Russian Volcano: http://news.xinhuanet.com/english/photo/2013-01/08/c_132087614.htm
ElectroQuakes: http://www.dailymail.co.uk/news/article-2258007/Scientists-close-earthquake-f…
US Mag: http://tin.er.usgs.gov/catalog/cite-view.php?cite=761
World Mag: http://www.ngdc.noaa.gov/geomag/EMM/icons/NGDC-720_data.jpg
East Coast Sea Level: http://www.sciencenews.org/view/generic/id/341723/description/East_Coast_face…
Sea Level Map: http://geology.com/sea-level-rise/
UN Climate: http://www.unep.org/compendium2009/
Sea Level 2003-2008: http://ibis.grdl.noaa.gov/SAT/SeaLevelRise/slr/mssh_2011-1993_300.png
Coming Weather: http://www.weather.com/news/weather-forecast/next-storm-wet-20130105 [Weather Channel]
REPEAT LINKS:
WORLD WEATHER:
NDBC Buoys: http://www.ndbc.noaa.gov/
Tropical Storms: http://www.wunderground.com/tropical/
HurricaneZone Satellite Images: http://www.hurricanezone.net/westpacific/animations.html
Weather Channel: http://www.weather.com/
NOAA Environmental Visualization Laboratory: http://www.nnvl.noaa.gov/Default.php
Pressure Maps: http://www.woweather.com/cgi-bin/expertcharts?LANG=us&MENU=0000000000&…
Satellite Maps: http://www.woweather.com/cgi-app/satellite?LANG=us&CONT=namk
Forecast Maps: http://www.woweather.com/weather/maps/forecastmaps?LANG=us&CONT=usus
EL DORADO WORLD WEATHER MAP: http://www.eldoradocountyweather.com/satellite/ssec/world/world-composite-ir-…
TORCON: http://www.weather.com/news/tornado-torcon-index [Tornado Forecast for the day]
HURRICANE TRACKER: http://www.weather.com/weather/hurricanecentral/tracker
US WEATHER:
Precipitation Totals: http://www.cocorahs.org/ViewData/ListIntensePrecipReports.aspx
GOES Satellites: http://rsd.gsfc.nasa.gov/goes/
THE WINDMAP: http://hint.fm/wind/
Severe Weather Threats: http://www.weather.com/news/weather-severe/severe-weather-tracker
Canada Weather Office Satellite Composites: http://www.weatheroffice.gc.ca/satellite/index_e.html
Temperature Delta: http://www.intellicast.com/National/Temperature/Delta.aspx
Records/Extremes: http://www.ncdc.noaa.gov/extremes/records/
SPACEWEATHER:
Spaceweather: http://spaceweather.com
SOHO Solar Wind: http://umtof.umd.edu/pm/
HAARP Data Meters: http://www.haarp.alaska.edu/haarp/data.html
Planetary Orbital Diagram – Ceres1 JPL: http://ssd.jpl.nasa.gov/sbdb.cgi?sstr=ceres;orb=1;cov=0;log=0;cad=0#orb
SDO: http://sdo.gsfc.nasa.gov/data/
Helioviewer: http://www.helioviewer.org/
SOHO: http://sohodata.nascom.nasa.gov/cgi-bin/soho_movie_theater
Stereo: http://stereo.gsfc.nasa.gov/cgi-bin/images
SOLARIMG: http://solarimg.org/artis/
iSWA: http://iswa.gsfc.nasa.gov/iswa/iSWA.html
NASA ENLIL SPIRAL: http://iswa.gsfc.nasa.gov:8080/IswaSystemWebApp/iSWACygnetStreamer?timestamp=…
NOAA ENLIL SPIRAL: http://www.swpc.noaa.gov/wsa-enlil/
GOES Xray: http://www.swpc.noaa.gov/sxi/goes15/index.html
Gamma Ray Bursts: http://grb.sonoma.edu/
BARTOL Cosmic Rays: http://neutronm.bartol.udel.edu//spaceweather/welcome.html
ISWA: http://iswa.ccmc.gsfc.nasa.gov:8080/IswaSystemWebApp/
NOAA Sunspot Classifications: http://www.swpc.noaa.gov/ftpdir/latest/SRS.txt
GONG: http://gong2.nso.edu/dailyimages/
MISC Links:
JAPAN Radiation Map: http://jciv.iidj.net/map/
RADIATION Network: http://radiationnetwork.com/
LISS: http://earthquake.usgs.gov/monitoring/operations/heliplots_gsn.php
QUAKES LIST FULL: http://www.emsc-csem.org/Earthquake/seismologist.php
RSOE: http://hisz.rsoe.hu/alertmap/index2.php [That cool alert map I use]
Moon: http://www.fourmilab.ch/earthview/pacalc.html