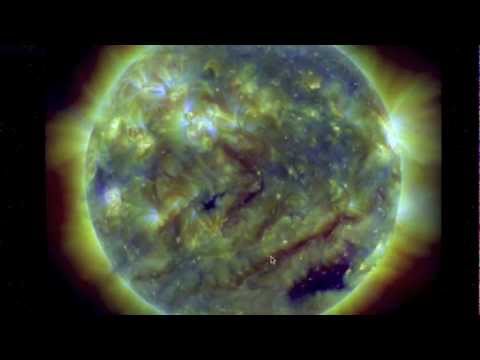 3-minute Earth and space weather news for January 27, 2013
There was a 6.0 magnitude earthquake in Tonga.
Extreme weather in Queensland, Australia caused by tropical storm Oswald.
Cosmic ray density is heading lower.
Expecting a CME impact from a filament eruption.
There are two large coronal holes that will be facing Earth in a week to 10 days.
Important Video: http://youtu.be/_yy3YJBOw_o
An Unlikely but Relevant Risk: The Solar Killshot: http://youtu.be/X0KJ_dxp170
TODAY's LINKS:
Oswald Remnants: http://phys.org/news/2013-01-nasa-troublesome-remnants-cyclone-oswald.html
NYC Dolphin: http://www.weather.com/news/dolphin-dies-ny-canal-20130126
REPEAT LINKS:
WORLD WEATHER:
NDBC Buoys: http://www.ndbc.noaa.gov/
Tropical Storms: http://www.wunderground.com/tropical/
HurricaneZone Satellite Images: http://www.hurricanezone.net/westpacific/animations.html
Weather Channel: http://www.weather.com/
NOAA Environmental Visualization Laboratory: http://www.nnvl.noaa.gov/Default.php
Pressure Maps: http://www.woweather.com/cgi-bin/expertcharts?LANG=us&MENU=0000000000&…
Satellite Maps: http://www.woweather.com/cgi-app/satellite?LANG=us&CONT=namk
Forecast Maps: http://www.woweather.com/weather/maps/forecastmaps?LANG=us&CONT=usus
EL DORADO WORLD WEATHER MAP: http://www.eldoradocountyweather.com/satellite/ssec/world/world-composite-ir-…
TORCON: http://www.weather.com/news/tornado-torcon-index [Tornado Forecast for the day]
HURRICANE TRACKER: http://www.weather.com/weather/hurricanecentral/tracker
US WEATHER:
Precipitation Totals: http://www.cocorahs.org/ViewData/ListIntensePrecipReports.aspx
GOES Satellites: http://rsd.gsfc.nasa.gov/goes/
THE WINDMAP: http://hint.fm/wind/
Severe Weather Threats: http://www.weather.com/news/weather-severe/severe-weather-tracker
Canada Weather Office Satellite Composites: http://www.weatheroffice.gc.ca/satellite/index_e.html
Temperature Delta: http://www.intellicast.com/National/Temperature/Delta.aspx
Records/Extremes: http://www.ncdc.noaa.gov/extremes/records/
SPACEWEATHER:
Spaceweather: http://spaceweather.com
SOHO Solar Wind: http://umtof.umd.edu/pm/
HAARP Data Meters: http://www.haarp.alaska.edu/haarp/data.html
Planetary Orbital Diagram – Ceres1 JPL: http://ssd.jpl.nasa.gov/sbdb.cgi?sstr=ceres;orb=1;cov=0;log=0;cad=0#orb
SDO: http://sdo.gsfc.nasa.gov/data/
Helioviewer: http://www.helioviewer.org/
SOHO: http://sohodata.nascom.nasa.gov/cgi-bin/soho_movie_theater
Stereo: http://stereo.gsfc.nasa.gov/cgi-bin/images
SOLARIMG: http://solarimg.org/artis/
iSWA: http://iswa.gsfc.nasa.gov/iswa/iSWA.html
NASA ENLIL SPIRAL: http://iswa.gsfc.nasa.gov:8080/IswaSystemWebApp/iSWACygnetStreamer?timestamp=…
NOAA ENLIL SPIRAL: http://www.swpc.noaa.gov/wsa-enlil/
GOES Xray: http://www.swpc.noaa.gov/sxi/goes15/index.html
Gamma Ray Bursts: http://grb.sonoma.edu/
BARTOL Cosmic Rays: http://neutronm.bartol.udel.edu//spaceweather/welcome.html
ISWA: http://iswa.ccmc.gsfc.nasa.gov:8080/IswaSystemWebApp/
NOAA Sunspot Classifications: http://www.swpc.noaa.gov/ftpdir/latest/SRS.txt
GONG: http://gong2.nso.edu/dailyimages/
MISC Links:
JAPAN Radiation Map: http://jciv.iidj.net/map/
RADIATION Network: http://radiationnetwork.com/
LISS: http://earthquake.usgs.gov/monitoring/operations/heliplots_gsn.php
QUAKES LIST FULL: http://www.emsc-csem.org/Earthquake/seismologist.php
RSOE: http://hisz.rsoe.hu/alertmap/index2.php [That cool alert map I use]
Moon: http://www.fourmilab.ch/earthview/pacalc.html