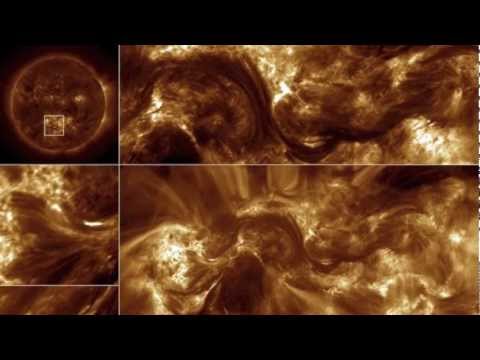 3-minute Earth and space weather news for January 24, 2013:
NASA's High Resolution Coronal Imager telescope captured the highest-resolution images ever taken of the sun's million-degree atmosphere, the corona.
Pollution Warning: Sickening fog settles over Salt Lake City area
10 volcanic quakes rock the Taal Volcano in the Philippines
There was a mass fish death on the coast of Victoria, Australia
Unusual cold in China
Solar wind speed has dropped further, which is part of the weakening solar magnetic fields
Cosmic ray density is on the rise, approaching 101
Two CME were released by the sun yesterday via filament eruption.  According to SpaceWeather.com, Earth is not in the line of fire of either ejection.  But NASA does show one of the CMEs impacting Earth.
TODAY's LINKS:
NASA Announcement: http://www.nasa.gov/topics/solarsystem/features/hic-briefing-materials.html
Taal Volcano: http://manilastandardtoday.com/2013/01/23/10-volcanic-quakes-rock-taal-volcano/
Cold China: http://earthobservatory.nasa.gov/IOTD/view.php?id=80235
SLC Pollution: http://phys.org/news/2013-01-sickening-fog-salt-lake-city.html