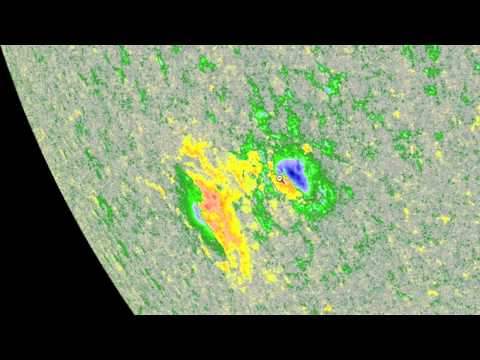 2-minute Earth and space weather news January 7, 2013:
Belgium is set to restart a troubled nuclear plant.
Tehran air pollution leaves 4,460 dead according to a health official.  It seems odd that so many people would die from air pollution. Last week, Iranian officials instructed residents of Isfahan to leave the city, renewing concerns that the nearby Bushehr nuclear site could be leaking radioactive material.  Isfahan is located 280 miles due south of Tehran.
China had it coldest winter in decades, along with India, Russia, and Europe.
Cold arctic air is about to bring major cold to the northern and eastern parts of Europe.
The cosmic ray density is falling, probably caused by the increased magnetism of more robust solar wind the last couple of days and the large number of sun spots.
Earth facing quiet (from the sun) is not good.  Our atmosphere collapsed way too much during the last solar minimum.
There will be a moderate CME impact tomorrow.
Featured image: Record cold in China (source: chinanews.com)
TODAY'S LINKS:
Belgian Nuke Plants: http://phys.org/news/2013-01-experts-restart-worrisome-belgian-nuclear.html
China Cold: http://www.nytimes.com/2013/01/06/world/asia/travel-disrupted-in-china-amid-u… ; http://www.weather.com/news/china-coldest-winter-20130106
Wide Binary Systems:http://phys.org/news/2013-01-astrophysicists-wide-binary-stars-wreak.html
Tehran Pollution: http://phys.org/news/2013-01-tehran-air-pollution-dead-health.html
Weather Patterns: http://www.weather.com/video/mild-weather-wont-last-long-33582
REPEAT LINKS:
WORLD WEATHER:
NDBC Buoys: http://www.ndbc.noaa.gov/
Tropical Storms: http://www.wunderground.com/tropical/
HurricaneZone Satellite Images: http://www.hurricanezone.net/westpacific/animations.html
Weather Channel: http://www.weather.com/
NOAA Environmental Visualization Laboratory: http://www.nnvl.noaa.gov/Default.php
Pressure Maps: http://www.woweather.com/cgi-bin/expertcharts?LANG=us&MENU=0000000000&…
Satellite Maps: http://www.woweather.com/cgi-app/satellite?LANG=us&CONT=namk
Forecast Maps: http://www.woweather.com/weather/maps/forecastmaps?LANG=us&CONT=usus
EL DORADO WORLD WEATHER MAP: http://www.eldoradocountyweather.com/satellite/ssec/world/world-composite-ir-…
TORCON: http://www.weather.com/news/tornado-torcon-index [Tornado Forecast for the day]
HURRICANE TRACKER: http://www.weather.com/weather/hurricanecentral/tracker
US WEATHER:
Precipitation Totals: http://www.cocorahs.org/ViewData/ListIntensePrecipReports.aspx
GOES Satellites: http://rsd.gsfc.nasa.gov/goes/
THE WINDMAP: http://hint.fm/wind/
Severe Weather Threats: http://www.weather.com/news/weather-severe/severe-weather-tracker
Canada Weather Office Satellite Composites: http://www.weatheroffice.gc.ca/satellite/index_e.html
Temperature Delta: http://www.intellicast.com/National/Temperature/Delta.aspx
Records/Extremes: http://www.ncdc.noaa.gov/extremes/records/
SPACEWEATHER:
Spaceweather: http://spaceweather.com
SOHO Solar Wind: http://umtof.umd.edu/pm/
HAARP Data Meters: http://www.haarp.alaska.edu/haarp/data.html
Planetary Orbital Diagram – Ceres1 JPL: http://ssd.jpl.nasa.gov/sbdb.cgi?sstr=ceres;orb=1;cov=0;log=0;cad=0#orb
SDO: http://sdo.gsfc.nasa.gov/data/
Helioviewer: http://www.helioviewer.org/
SOHO: http://sohodata.nascom.nasa.gov/cgi-bin/soho_movie_theater
Stereo: http://stereo.gsfc.nasa.gov/cgi-bin/images
SOLARIMG: http://solarimg.org/artis/
iSWA: http://iswa.gsfc.nasa.gov/iswa/iSWA.html
NASA ENLIL SPIRAL: http://iswa.gsfc.nasa.gov:8080/IswaSystemWebApp/iSWACygnetStreamer?timestamp=…
NOAA ENLIL SPIRAL: http://www.swpc.noaa.gov/wsa-enlil/
GOES Xray: http://www.swpc.noaa.gov/sxi/goes15/index.html
Gamma Ray Bursts: http://grb.sonoma.edu/
BARTOL Cosmic Rays: http://neutronm.bartol.udel.edu//spaceweather/welcome.html
ISWA: http://iswa.ccmc.gsfc.nasa.gov:8080/IswaSystemWebApp/
NOAA Sunspot Classifications: http://www.swpc.noaa.gov/ftpdir/latest/SRS.txt
GONG: http://gong2.nso.edu/dailyimages/
MISC Links:
JAPAN Radiation Map: http://jciv.iidj.net/map/
RADIATION Network: http://radiationnetwork.com/
LISS: http://earthquake.usgs.gov/monitoring/operations/heliplots_gsn.php
QUAKES LIST FULL: http://www.emsc-csem.org/Earthquake/seismologist.php
RSOE: http://hisz.rsoe.hu/alertmap/index2.php [That cool alert map I use]
Moon: http://www.fourmilab.ch/earthview/pacalc.html