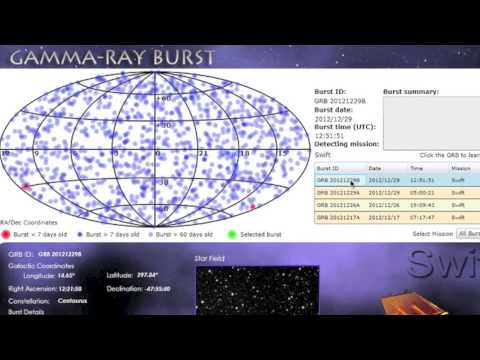 2-minute Earth and space weather news for December 30, 2012:
The U.S. drought is still quite exceptional.
No major earthquakes, but there were a few moderate tremors in Central America, Japan, and Afghanistan.
Severe flooding in Kenya, causing over 20 deaths and displacing thousands from their homes.
Tropical Cyclone Freda is getting stronger and an eye is developing as it heads towards New Caledonia.
Gamma burst from Centarus.
A coronal hole stream struck our magnetosphere, but there was no plasma penetration.
No major Earth-side eruptions on the sun.
TODAY'S LINKS:
Kenya Flood: http://www.kenyan-tv.com/news-floods-wreak-havoc/
Drought: http://www.wunderground.com/blog/JeffMasters/comment.html?entrynum=2319
REPEAT LINKS:
WORLD WEATHER:
NDBC Buoys: http://www.ndbc.noaa.gov/
Tropical Storms: http://www.wunderground.com/tropical/
HurricaneZone Satellite Images: http://www.hurricanezone.net/westpacific/animations.html
Weather Channel: http://www.weather.com/
NOAA Environmental Visualization Laboratory: http://www.nnvl.noaa.gov/Default.php
Pressure Maps: http://www.woweather.com/cgi-bin/expertcharts?LANG=us&MENU=0000000000&…
Satellite Maps: http://www.woweather.com/cgi-app/satellite?LANG=us&CONT=namk
Forecast Maps: http://www.woweather.com/weather/maps/forecastmaps?LANG=us&CONT=usus
EL DORADO WORLD WEATHER MAP: http://www.eldoradocountyweather.com/satellite/ssec/world/world-composite-ir-…
TORCON: http://www.weather.com/news/tornado-torcon-index [Tornado Forecast for the day]
HURRICANE TRACKER: http://www.weather.com/weather/hurricanecentral/tracker
US WEATHER:
Precipitation Totals: http://www.cocorahs.org/ViewData/ListIntensePrecipReports.aspx
GOES Satellites: http://rsd.gsfc.nasa.gov/goes/
THE WINDMAP: http://hint.fm/wind/
Severe Weather Threats: http://www.weather.com/news/weather-severe/severe-weather-tracker
Canada Weather Office Satellite Composites: http://www.weatheroffice.gc.ca/satellite/index_e.html
Temperature Delta: http://www.intellicast.com/National/Temperature/Delta.aspx
Records/Extremes: http://www.ncdc.noaa.gov/extremes/records/
SPACEWEATHER:
Spaceweather: http://spaceweather.com
SOHO Solar Wind: http://umtof.umd.edu/pm/
HAARP Data Meters: http://www.haarp.alaska.edu/haarp/data.html
Planetary Orbital Diagram – Ceres1 JPL: http://ssd.jpl.nasa.gov/sbdb.cgi?sstr=ceres;orb=1;cov=0;log=0;cad=0#orb
SDO: http://sdo.gsfc.nasa.gov/data/
Helioviewer: http://www.helioviewer.org/
SOHO: http://sohodata.nascom.nasa.gov/cgi-bin/soho_movie_theater
Stereo: http://stereo.gsfc.nasa.gov/cgi-bin/images
SOLARIMG: http://solarimg.org/artis/
iSWA: http://iswa.gsfc.nasa.gov/iswa/iSWA.html
NASA ENLIL SPIRAL: http://iswa.gsfc.nasa.gov:8080/IswaSystemWebApp/iSWACygnetStreamer?timestamp=…
NOAA ENLIL SPIRAL: http://www.swpc.noaa.gov/wsa-enlil/
GOES Xray: http://www.swpc.noaa.gov/sxi/goes15/index.html
Gamma Ray Bursts: http://grb.sonoma.edu/
BARTOL Cosmic Rays: http://neutronm.bartol.udel.edu//spaceweather/welcome.html
ISWA: http://iswa.ccmc.gsfc.nasa.gov:8080/IswaSystemWebApp/
NOAA Sunspot Classifications: http://www.swpc.noaa.gov/ftpdir/latest/SRS.txt
GONG: http://gong2.nso.edu/dailyimages/
MISC Links:
JAPAN Radiation Map: http://jciv.iidj.net/map/
RADIATION Network: http://radiationnetwork.com/
LISS: http://earthquake.usgs.gov/monitoring/operations/heliplots_gsn.php
QUAKES LIST FULL: http://www.emsc-csem.org/Earthquake/seismologist.php
RSOE: http://hisz.rsoe.hu/alertmap/index2.php [That cool alert map I use]
Moon: http://www.fourmilab.ch/earthview/pacalc.html